Cloud File Server, Local Cloud, File Share, FTP and Backup
Egnyte provides everything required for your business to store and share files in the Cloud.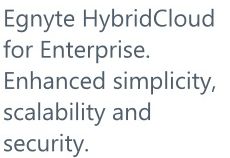 Going to the cloud should not mean losing control of your files. Egnyte Hybrid Cloud addresses the needs of business users with a simple and easy way to access and share files with team members, at the same time enabling IT to control and monitor all access.
Egnyte's Cloud File Server solution scales to meet the Enterprise needs allowing all file servers to be consolidated into one Cloud Hybrid environment.


Egnyte Cloud Server Features Include:
Simplicity - Streamlined user interface based on HTML5, new Windows Mobile app, as well as improvements to iPad, iPhone and Android apps.

Scalability - Egnyte Object Store Architecture allows scaling to 1 billion files and upwards of 10,000 concurrent users per customer. NetApp® enterprise-class storage solutions now integrate with Egnyte HybridCloud along with NetGear's NAS for small-mid sized organisations.

Security - End-to-end encryption with user-managed keys and expanded integration with single sign-on.
Key Benefits Businesses
Set up a central shared repository for files across the entire company

Centrally administer users and access using granular permissions

Access and share files, anytime, anywhere from Android, iPhone, iPad, Mac, PC or any web enabled device

Share extremely large files with instant FTP capability

Easily share files with employees and business partners

Securely distribute and share large files using links

Implement disaster-preparedness plans using online file storage

Avoid purchase and maintenance of file servers, virtual private networks (VPN) and point-products such as FTP

Provide offline access to individual users or entire office locations



Hybrid Model - Cloud and Local
Cloud File Server / Sharing
Mobile Access
Designed for online collaboration with co-workers and clients, Egnyte provides secure access to critical business files from iPhone, iPad, Android, Windows Mobile, HP webOS, or any smartphone. Egnyte works equally well on a Mac or Windows computer.
Fast Local Access
Egnyte's Hybrid Cloud technology combines the accessibility and flexibility of cloud storage with the robust performance offered by local storage.
Personal Local Cloud provides offline access to individual users and synchronizes files between online file storage and computer hard drives.
Office Local Cloud synchronizes local copies of files to NAS devices including Netgear. ReadyNAS.
Enterprise Local Cloud does so for virtual machines. These Local Cloud solutions allow businesses to efficiently replace traditional file servers.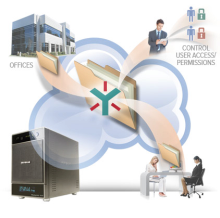 Online File Storage, File Sharing, Backup
Your Cloud Hard Drive! From only US$40 per month.
Experience the full power of
Egnyte free for 15 days