Office 365 - Hosted Solutions from Microsoft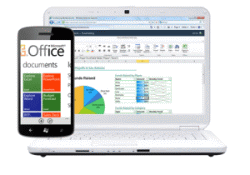 Microsoft Office 365 is includes Microsoft's collaboration and productivity tools delivered through the cloud. Everyone can work easily with anywhere access to email, web conferencing, documents, and calendars. It includes business-class security and is hosted directly by Microsoft. Whether you are a small business or multinational enterprise, Office 365 offers a seclection of plans designed to fit your organisation's requirements and budget.
Cloud Solutions consultants provide advice and technical migration services to move your organisation to Office 365. If you are still considering which cloud service to use, Google or Microsoft, then discuss this with us and we will provide you a fair advice for your consideration. We know is moving to the cloud is a smart move. We are here to help you do that.
Why Office 365?
Microsoft Office 365 takes the industry's most recognised set of desktop tools and delivers them as a subscription service. With Microsoft's cloud services, your organisation can lower overall costs and deliver the right set of tools to the right users, all with appropriate layers of security and compliance.
How will You benefit from Office 365?
Microsoft Office 365 delivers the power of cloud productivity to businesses of all sizes, helping to save time, money and free up valued resources. Combines with the familiar Office desktop suite and its online communications and collaboration services, Microsoft Office 365 provides services that are easy to administer and simple to use and always backed up by robust security, reliability and control to run your business.
Office 365 Plans
Depending on the size of your business Microsoft offer several options for licenses.These include:
Microsoft Office 365 for professionals and small businesses

Microsoft Office 365 for midsize businesses and enterprises

Microsoft Office 365 for education



For businesses that only wish to have Hosted Exchange services and wish to continue to use Outlook the Microsoft Plan required is referred to as P1. This is US$4 per month per mailbox.

Additional plans from E1 to E3 offer additional benefits including integration to Active Directory within your office allowing for single sign on in the Cloud, and also the licensing of all Office desktop applications such as Word, Excel and Powerpoint. Windows desktop licenses are not covered with Office 365.
Talk to Us - Get Started

Office 365 Consultant
Our experienced Consultants will perform all the required steps for your business to adopt Office 365. Alternatively we can provide an onsite project manager to lead your own team in the migration project.

We have the experience to help any size organisation. Our consultants have been involved in migrations of up to 10,000 mailboxes.
Hosted Exchange Services
Plan P1 offers Exchange Hosting only. 25GB of email storage. US$4 per month per mailbox.

Google vs Office 365
Talk to us about your requirements. We will give you sound advice from our experience working with many customers over the past few years.
Making a decision to adopt cloud computing is a great first step. Adopting the appropriate cloud environment is the next step. We will help you with this decision making process.
CALL US
+852 3973-3848